Locum Tenens Industry Meets New Healthcare Staffing Challenges
The use of locum tenens physicians and advanced practitioners has risen to become the predominant staffing solution for our nation's ongoing shortage of providers and increased demand for care.
I've blogged in the past about the doctor shortage. It's a familiar issue we've been facing for decades now. However, there are some additional challenges that have surfaced in recent years that are also driving the need for locum tenens.
Here are just two examples of more current issues now faced by our healthcare system.
Uninsured at an All Time Low
According to the most recent annual data from the CDC's National Center for Health Statistics, the non-elderly uninsured rate dropped in 2015 to 10.5%, the lowest we've seen in decades.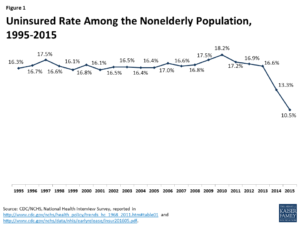 As a result of the Affordable Care Act, millions of Americans have gained healthcare coverage in recent years, adding to the already heavy burden on our medical professionals.
It hasn't taken long for those newly insured to realize that coverage alone will not meet their expectations for care. In other words, coverage has not equaled access.
Even if the newly insured successfully navigate the federal marketplace to find medical providers that accept their insurance, the same finite number of physicians in areas like primary care and urgent care await them.
Time will tell what happens next to healthcare policy on a national level, but those enrolled as a result of the Affordable Care Act now seem more reluctant to take part due to the current political climate.
Keep in mind that on the supply side, areas such as primary care and urgent care are already adept at taking advantage of the locum tenens staffing model to solve this new issue with both temporary physicians and advanced practitioners.
Physician Health
Unlike the political lightning rod that is now federal healthcare, there are figures from of a different challenge now becoming top of mind with facility administrators as well. Doctors are reporting more occurrences of burnout than ever before, and bringing stories to the forefront about the impact that their jobs have on their well being both mentally and physically.
According to some reports, burnout is up over 25% in just the last 4 years, with many physicians now reporting occurrences topping 50% in many specialties (MedScape 1/11/17).
This also includes how they view their profession collectively, including their willingness (or not) to suggest medicine to others considering the profession as their career choice. These figures even denote why some physicians might leave medicine altogether. That's obviously a cause for concern.
We have to take care of those who take care of us.
Good News
The good news is that the locum tenens model is designed to directly and quickly address these types of new, more urgent causes of staffing issues in today's healthcare system.
Locum Tenens doesn't always have to be used in a reactive manner, waiting until there's a clear void in staff, using coverage as a stopgap answer to immediate staffing needs.
The most successful use of locum tenens is often through a more proactive approach to staffing. Administrators should make an effort to get ahead of the inevitable problems that come with turnover, public policy changes, and ongoing problems like provider burnout, by having locum tenens already on hand as their staffing plan's version of first responders.
I think locum tenens is positioned to combat any combination of the latest pain points in healthcare staffing, thanks in large part to its proven success in fighting the old physician shortage.
Thank you.
Mike Gianas
Please make sure to also check out our bi-monthly blogs from healthcare policy expert, John R. Graham:
Hospital Prices Rose Dramatically Since 2010
Share this post: